Photo by Linda Xiao
You've seen them in colorful still-lifes throughout history and read about their appearance at elaborate banquets in ancient Greece and Rome. The pomegranate, often referred to as the Fruit of the Gods, is truly a divine object. This ruby-red fruit is packed with precious, jewel-like seeds, each bursting with sweet-tart flavor and essential nutrients. Originally grown in Persia, the pomegranate can be found in many traditional Middle Eastern dishes. However, with the recent emphasis on the nutritional benefits of antioxidants, the nutrient-rich pomegranate has taken center stage worldwide with its boundless versatility and fresh flavor.
Pomegranates pair well with citrus, providing a tart foil to rich meats like lamb. Or they can be substituted for cranberries, berries, or a litany of other tart fruits in any number of sweet or savory dishes. Whether raw, juiced, or cooked down to pomegranate molasses, the bountiful pomegranate is more than just a beautiful addition to your kitchen fruit bowl.
Backstory & Benefits
It is rumored that the forbidden fruit plucked from the Tree of Knowledge in the Garden of Eden may not have been an apple, but rather a pomegranate. And with a nutrition profile as staggeringly healthful as this, perhaps it is a pomegranate a day that really keeps the doctor away. These nutrient-rich fruits are packed full of antioxidants and immunity-boosting vitamins, such as:
• B-complex vitamins
• Vitamin C
• Vitamin K
• Dietary fiber
These powerful properties may help prevent cancer, lower blood pressure, fight signs of aging, and even lift your spirits. Start your day with a nutritious kick by adding pomegranate seeds to your morning oatmeal, dry cereal, or yogurt. It's a quick and easy way to up your vitamin intake while adding tart crunch to blander breakfast basics.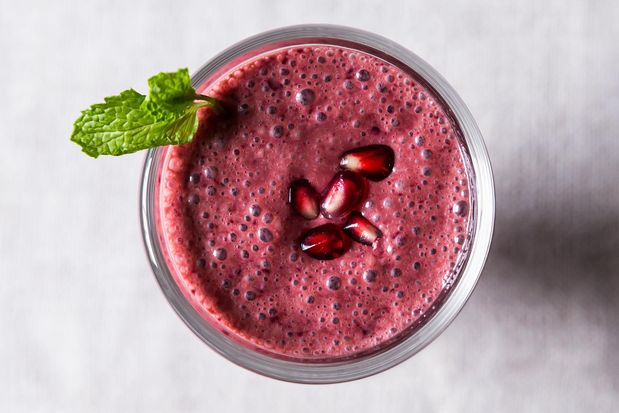 Triple Pomegranate Smoothie [Food52] (photo by James Ransom)
Seeding and Juicing Techniques
While you may be tempted to approach opening a pomegranate like one of those whack-and-unwrap chocolate oranges, there are easier and less messy ways to go about it. Tori Avey of The Shiksa Kitchen outlines a few incredibly easy (and fun, if you ask us kitchen nerds) methods for extracting pomegranate seeds without ending up with a kitchen that looks like a crime scene (with stained hands to match). Check out her post for exhaustively helpful, step-by-step processes. Our preferred means of extraction, however, while maintaining maximum seed structural integrity, is the bowl-of-water method, wherein a pomegranate is carefully halved, submerged in a bowl of cool water, and the seeds are manually pulled away from the pith. It's a very handy technique, especially because the pith graciously floats to the surface to be skimmed and thrown away, while the precious seeds drop to the bottom of the bowl. Simply drain the seeds through a sieve or colander with fine holes (drying on a paper towel afterwards, if need be), and you're ready to roll. Watch Food52's Kristy Mucci demonstrate this easy technique here.
As far as getting the juice out is concerned, we also like the Shiksa's advice on extracting juice from the seeds once you've separated them from their confines (never juice the pith, by the way). The seeds themselves can be fairly tough on a conventional juicer, so the hardier blender method can prove quite successful in extracting the most juice possible.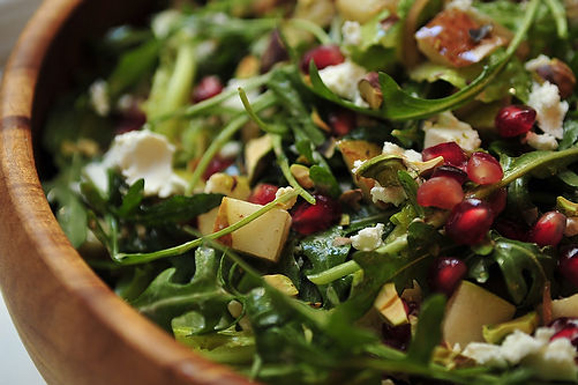 Arugula, Pear and Goat Cheese Salad with Pomegranate Vinaigrette [Food52] (photo by Sarah Shatz)
Savoring the Seeds
Once you've cracked open this superfruit, you can transform a variety of everyday meals just by sprinkling some of its exotic seeds (called arils) on top. From appetizer to entree to dessert, pomegranate seeds can perk up any number of dishes in need of a little bling and a burst of sweet-tart flavor.

Here are some ways to incorporate pomegranate seeds into your daily fare:
Toss arils into hearty grain salads made with farro, buckwheat, couscous, or quinoa.
Sprinkle seeds onto vibrant green salads for a colorful pop and kick of fruity juice.
Bejewel succulent roast meats like ham, pork, or lamb.
Scatter the seeds over ice cream, rich bread pudding, fluffy pavlova, or airy angelfood cake.
Juicy Ideas
While there's certainly nothing wrong with taking your delectable pomegranate juice straight up, the deeply pigmented beverage is made for much more than just drinking. A few ideas come to mind:
For a fruity kick, try mixing pomegranate juice into a vinaigrette like this Splash Salad Dressing.
Use the juice as a base for building tart, rubied cocktails.
Splash some juice into your next smoothie in place of other liquid for a colorful boost.
Like other acidic fruit juices, pomegranate juice is a natural meat tenderizer -- use it for meat destined for the oven, stovetop, or grill.
Make Way for Pomegranate Molasses
For a more concentrated pomegranate flavor and luscious nappé, try pomegranate molasses. While you can certainly pick up a bottle at your local store, making it at home is as easy as can be: On the stovetop, simmer pomegranate juice at an steady clip in a small saucepan until reduced by half, at which point it will appear as a reddish-black, molasses-like syrup. Still tart as ever but with a more complex sweetness, pomegranate molasses can be used in any number of sweet or savory applications. Gussy up ho-hum salad dressings, glaze roast meat, fish, or veggies, add complexity to hearty bean dips, or adding a touch of tart sweetness to dessert sauces, french toast, candies, or pastry cream.

Pomegranate molasses (photo by James Ransom)
Recipes
Bulgur with Arugula, Pomegranate and Hazelnuts
Roast Leg of Lamb with Pomegranate-Wine Sauce
Middle-Eastern Slow Cooked Green Beans [Food52]
Spiced Pomegranate and Orange Caramels [Food52]
Honey Pomegranate Mulled Wine [Food52]
Iranian/Persian Fesenjoon (Walnut and Pomegranate Dish) with Rice [Food52]
These are just a few ideas to get you thinking about the versatility of pomegranates. What are your favorite ways to use the tart-sweet fruit? Share your cooking ideas and tips in the comments section below.

Like this post? Check out last week's From Scratch topic: Spiced Cookies.